New Thermador Freestanding Fridge!
New Thermador Freestanding Fridge!
Thermador is releasing something new this April: a 72″ tall, freestanding, cabinet-depth fridge with bottom freezer that will make integrating this option into more kitchens a breeze. If you have an older home, you might find your biggest frustration is how far your refrigerator sticks out from your cabinets (usually at least six inches) which makes your fridge look like a MONSTER and throws off the balance of your entire space.
The refrigerator is never the center of the kitchen (even when it's your BFF). Seriously, a refrigerator can be beautiful and functional, but it won't be the visual focal point of a well-designed kitchen. So if it hovers over everything else, it takes away from your main design elements.
But you don't have to go with a built in option anymore. Save style and money…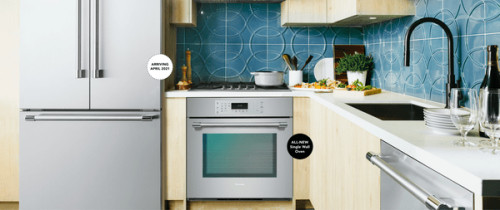 By Kitcheart LLC Peoria – See more Home Design Photos
SOLUTION: invest in a cabinet depth refrigerator that will blend in and allow your kitchen space to breathe. And once you've had a Thermador refrigerator, you'll know the investment was worth it!